Parassitismo
Il parassitismo è un tipo di simbiosi antagonista che intercorre tra due specie di cui una (parassita) trae nutrimento o protezione mentre l'altra (ospite) subisce un danno biologico.
Nella presentazione sottostante viene trattato l'argomento parassitismo nei suoi molteplici aspetti con esempi di piante, animali e microbi presi tra ecto ed endoparassiti, micro e macroparassiti, iperparassiti, parassitoidi ...
Do you CLIL? - Malaria parasite cycle
Malaria parasites enter vertebrate hosts through a mosquito bite ...
Look at the picture very carefully and then do the appropriate research to continue Plasmodium cycle description in English (maximum 1500 characters, spaces and punctation included).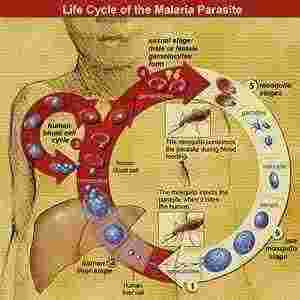 Spunti per la didattica delle competenze
Il parassitismo può essere considerato anche un'interazione biologica consumatore-risorsa che richiama alla mente la predazione.
Qual è la differenza tra parassitismo e predazione?
---
Nella presentazione si accenna al genere di funghi Armillaria, considerato un parassita facoltativo. Può essere considerato anche un saprofita facoltativo?
Fig. 1 Limanda limanda con xenoma

By © Hans Hillewaert /, CC BY-SA 3.0, https://commons.wikimedia.org/w/index.php?curid=1845240

Fig. 2 Life cycle of the malaria parasite

By National Institutes of Health (NIH) - National Institutes of Health (NIH), Public Domain, https://commons.wikimedia.org/w/index.php?curid=29552307
L'accredito di foto e immagini utilizzate nella presentazione è riportato nelle ultime slide